My First Comrades Marathon
AIMS-DSR Youth Run will always be close to my heart as it was my first formal race ever. I completed this 5km race with difficulty 2011 and exactly year later I was appointed as the ambassador of this very race and had completed the Ultimate Human Race – Comrades Marathon 2012.
It was my first and my husband's (Kevin a.k.a Coach) fourth comrades, what an awesome experience. I'm lucky to have had someone as patient as him training me for this Ultimate Human Race. It was not an easy road though, the cold mornings, back-to-back weekends spent running, trying to qualify. Finally, just three weeks before the race I qualified and suddenly it sunk in - I will be running from Pietermaritzburg to Durban.
Not knowing what to expect, I went to the start with an open mind and ready to face the challenge. Being a radio presenter, I've played and listened to Vangelis' Chariots of Fire several times but when I heard that tune at 5:22am on Sunday 03 June 2012 it did not sound anything like the song I've heard before. It sent me on an emotional roller coaster...I was overwhelmed by all kinds of emotions and my body covered in goose bumps. At exactly 5:30am the gun went and there was no movement for 4 minutes. A good thing for me as this allowed me to reflect on how far I've come in just 9 months.
Suddenly, there was movement and my legs went one after the other, 10km later and it felt like I have just done 1km. The weather was good we were all still at our best, there was singing, laughing and strange sounds in between. 15k later at Camperdown I hit my wall! I struggled to move forward and came up with every excuse under the sun but 'coach' was not interested. 'MOVE, MOVE, MOVE' he screamed. MOVE! I did. I have no idea where the strength came from but I guess the thought of my supportive listeners, family, friends and colleagues waiting for me on route and at the stadium kept me going. Even the fellow runners kept me going when I was tempted to walk, it's amazing how much strength we were able to draw from each other. The supporters along the way were so complementary; they made the thought of giving up impossible to entertain. I soldiered on with coach. 34km to go and just over 3 hours before cut off time we decided to split. I almost gave in thinking I won't make it but when I started running downhill I felt like a feather being blown away – I was at my best. The supporters in Pinetown were like wind beneath my wings, every time I heard someone scream my name it felt like an energy booster.
Suddenly, there was a 5km sign in front and I could smell the sea. I looked at my watch; I had 39 minutes to get to the finish. I cried like a baby as I continued running as though my life was dependant on this race. Commercial road felt like the longest road ever, as I turned towards the Hilton Hotel I heard the announcer say 'You have four minutes to get to the finish'. I said Lord you have brought me this far PLEASE see me to the finish in good time…because He is such a faithful and awesome God; He did – at exactly 11:59:03 I crossed the finish line. To this day I struggle to find words to describe the feeling, you have to experience it – a true life changing experience. Completing such a race makes you realize that we all can achieve anything we set our mind to. If the mind is in the right place, the body will oblige...and this is with anything and everything in life.
In an effort to get more women to push themselves both mentally and physically, I initiated the Comrades Women's Seminars aimed at educating and preparing women for this Ultimate Human Race. The seminars have been successful and through these national seminars we have managed to increase entries from women and get them to the finish in good time…credit to all Panelists who are always there to give invaluable advise.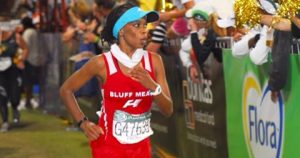 Read more
Show Gallery